Ozobots 2 (2-8; Robotics, Coding)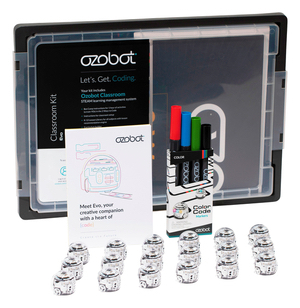 Ozobots have had a makeover! These updated Ozobots come in a class set of 18 Evo Robots, and bots now come equipped with speakers, proximity sensors, and improved line follow and color sensors. Coding can also be accomplished online via OzoBlockly. These Evo's come with a charging cradle so all bots can be charged at the same time. Also included are 18 boxes of color code markers and a USB charging cable.
It uses very basic programming, as you simply train the robots to follow patterns on the surfaces that they roll over. It can be coded in two ways: online with OzoBlockly and screen-free with Color Codes. Ozobot can identify lines, colors, and codes on both digital surfaces, such as an iPad, and physical surfaces, such as paper.
Additional resources can be found here and here.
GRADE/SUBJECT: 2-8; Robotics, Coding (Kit includes 18 Evo Robots)