Ozobots 1 (2-8; Robotics, Coding)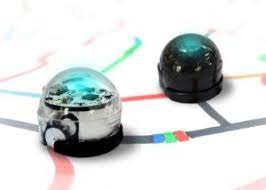 Robots to create coding and Creativity
Ozobot
is a little toy robot that blends the physical and digital worlds — and teaches kids programming. Ozobot could be the world's tiniest robot!
It uses very basic programming, as you simply train the robots to follow patterns on the surfaces that they roll over. It can be coded in two ways: online with OzoBlockly and screen-free with Color Codes. Ozobot can identify lines, colors, and codes on both digital surfaces, such as an iPad, and physical surfaces, such as paper.
Additional resources can be found here.
GRADE/SUBJECT: 2-8; Robotics, Coding (Kit includes 7 Ozobots)