Field Tools/Land Adventures (K-12; Biology, Science)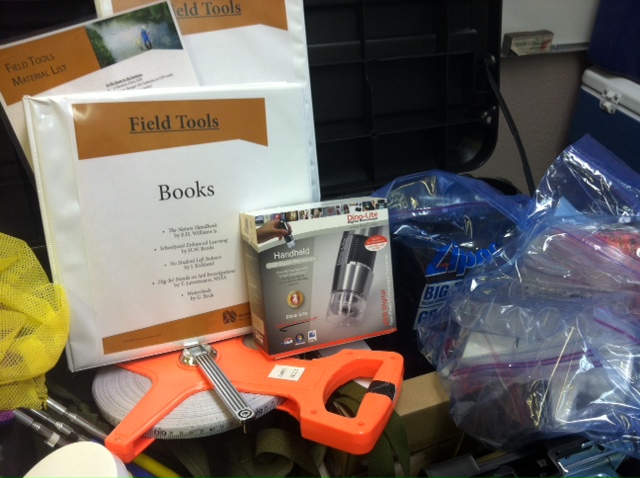 Description: Get your students outdoors and explore nature and the environment around them. Whether it's collecting leaves and bugs, testing the quality of water, examining the soil, or any of the many things you can do with this kit, you and your students will take learning to a new level- by experiencing it. This Teaching Toolbox contains everything you need to effectively take your classroom investigations outdoors.
Contents: Gloves, trowels, soil sieve, soil corer, hip waders, pipettes, collection vials, water testing kit, collapsible kick net, butterfly and insect nets, quadrats for plant surveys, plant presses, Garmin eTrex Ventures (PGS) with rechargeable batteries, Kestrel (monitors air, water, snow temperature, wind speed, humidity, etc.), monoculars, streak plates, Dino-Lite Digital Microscope, binoculars, Brock Magiscopes with multiple powered eyepieces, hand lenses, 100-meter tape measure, and backpacks (so your students can carry around all this amazing stuff!). And don't forget the binder of instruction manuals, software, and how-tos.
Also included are the following books:
The Nature Handbook by E. H. Williams Jr.
Schoolyard-Enhanced Learning by H. W. Broda
No Student Left Indoors by J. Kirkland
Dig-In! Hands-on Soil Investigations by T. Levermann, NSTA
Watersheds by G. Beck
GRADE/SUBJECT: K-12; Biology, Science