Archaeology of Spotten Cave (K-12; Social Studies, Utah Studies)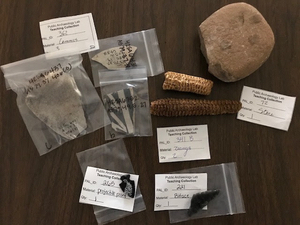 DESCRIPTION: Spotten Cave is a rockshelter located on the South end of Utah Lake, near Santaquin, that has been used throughout history by humans, and contains several different layers, or strata, of occupation. In Spotten Cave, archaeologists found hundreds of artifacts and even a few prehistoric firepits. But it isn't just prehistoric peoples that utilized rock shelters! Several historical artifacts, like bottles, metal nails, and even some shell casings were found in Spotten Cave.
CONTENTS: Flash Drive which includes: Slideshow presentation "The Archaeology of Spotten Cave," Teacher's notes on the presentation, Vocabulary List, Independent Activity Worksheet: The Stratigraphy of Spotten Cave, Group Activity Worksheet: What Happened at Spotten Cave?, and Follow-up/homework worksheet. In-Class Museum collections, including 3 ceramic shards, 2 Zeamys (precursor to modern-day corn and maize),1 obsidian projectile point ("arrowhead"), 1 Obsidian biface projectile point or scraper, and 1 mano, or grinding stone
GRADE/SUBJECT: 7th-grade; Social Studies.