Bee Bot (K-3; Coding, Programming)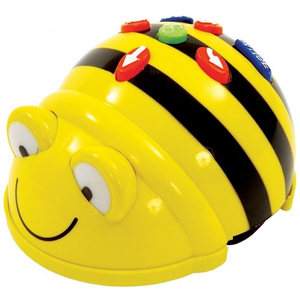 DESCRIPTION: Bee-Bot is an exciting robot designed specifically for use by young children. This colorful, easy-to-operate, and friendly little robot is a perfect tool for teaching sequencing, estimation, problem-solving, and just having fun!
Directional keys are used to enter up to 40 commands which send Bee-Bot forward, back, left, and right. Pressing the green GO button starts Bee-Bot on its way. Bee-Bot blinks and beeps at the conclusion of each command to allow children to follow Bee-Bot through the program they have entered and then confirm its completion with lights and sound. The different floor mats (with printed squares the distance the Bee-Bot travels) allow for many activities and adventures.
CONTENTS: 11 Bee-Bots, charging hive (for charging 6 bees at a time), charge cables, Snakes and Ladders Bee-Bot floor mat, Alphabet floor mat, Marketplace Mat, Fairy Tale mat, and Bee-Bot giant sequence cards.
GRADE/SUBJECT: K-3; Coding, Programming
ADDITIONAL INFORMATION: click here.