Welcome to CUES Digital Library!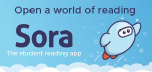 CUES is pleased to offer our digital library of ebooks, audiobooks, narrated books, and magazines to teachers to students in the CUES region. Our Sora library is an extension of your school's physical libraries, only you have 24/7 access to thousands of additional titles via the app or online. Titles are geared for students of all ages, elementary, middle, and high school. Our library also contains special collections you can search through. You can log in from multiple devices as they will sync with each other so you can resume your reading from device to device. And no more worrying about late fees or misplacing your book as the digital titles automatically return at the end of the lending period.
How to access Sora:
Download the Sora app or visit https://soraapp.com.
Sign in with your school credentials*
Use the setup code cuesut and select your district/school
Find a book and enjoy!
In addition, users are able to connect their Sora account to the public library (The Beehive Consortium is what all Utah Libraries utilize) so as to give you access to even more books.
*If you get a "user not found" error when trying to log in,
follow this help
to ensure your 'less secure apps' is turned on from your Google security options.