2017 URSA Summer Conference
Mark your calendars now for the annual Utah Rural Schools Association conference on July 11, 12, 13, & 14 at Southern Utah University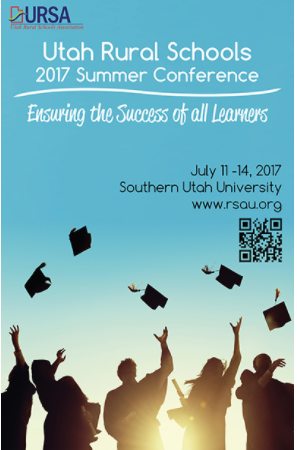 in Cedar City. This year's conference theme is "Ensuring the Success of All Learners." Attendance at the URSA conference will provide you the skills and resources necessary to help each educator do so! The conference not only allows for hands on and breaks out sessions for educators of every grade level, but also for administrators and all school personnel. It is anticipated that administrators will support the conference by attending with a team of teachers.
This years Keynote Speakers are Dean Wilson and Joe Cuddemi. Dean Wilson is currently the principal at Altamont High School and also works as a consultant for Mastery Connect. Joe Cuddemi, from Solution Tree, specializes in the implementation and development of professional learning communities process design to help schools build collaborative cultures that result in high student achievement.
The conference officially kicks off with the free family picnic on Tuesday, July 11. Besides the great food and company, you'll enjoy live music from the Superintendents of Rock. It's an evening you won't want to miss! Wednesday and Thursday until 4:00, then Friday 'till noon, numerous sessions will be offered for you to attend. Lunches, drinks, and snacks on these days are included with your conference registration. The URSA Conference will provide you with many tools to help you fill your teaching bag of tricks. We hope to see many of you there.
But why just attend the conference when you could share your talents and skills with other attendees! The success of the conference largely depends on many great educators like you who take part as presenters. The call for presenters is now open, but closes on April 28. This link will take you to the presentation submission page. It'll be great to have the CUES Region well represented with presenters.
Additional information about the URSA Conference can be found HERE, or feel free to contact the CUES office at 435.896.4469 with questions.